Not So Hot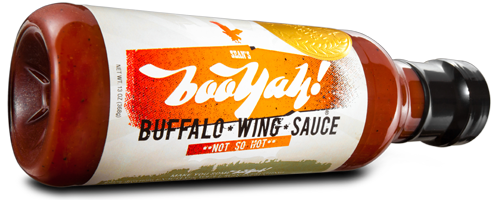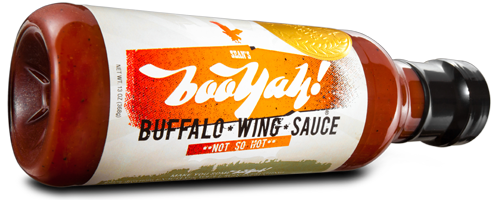 Not So Hot
Medium-ish Traditional Buffalo Wing Sauce (Net Wt. 13 oz)
HandCrafted in nano-batches from Premium and Artisanal ingredients.
Folks use our Wing Sauces in every way imaginable - as hot sauce, condiments, marinades, bbq sauce, dipping sauce...We can't control how you use them but PLEASE use them responsibly.
Not So Hot is Triple Thick and it's won 16 of the World's Most Prestigious awards - both as a 'Traditional Buffalo Style Wing Sauce' and as a 'Hot Sauce'.
If you want to experience the booYah! EXACTLY the way it was prepared when it won all the 'Buffalo Wing Sauce' Awards - Ya need to follow the directions on the bottle EXACTLY! OR YOU'LL RUIN EVERYTHING!! We make ya add your own butter because fresh butter is WAY BETTER than bottled butter and a zillion times better than the soybean oil you'll find in every other wing sauce on the planet.
OR if you want to experience the booYah as a 'Hot Sauce' just open the bottle and start drowning stuff in it.
NOT SO HOT - 16 NATIONAL AWARDS
1st Place 2014 Chile Pepper Awards – Cook-off-Wing Sauce (Mild/Medium)
1st Place 2013 Hot Pepper Awards – Hot Sauce - Cayenne
1st Place 2013 Cajun Hot Sauce Festival (New Iberia LA.) – Louisiana Style
1st Place 2012 Hot Pepper Awards – Wing Sauce – Mild
2nd Place 2014 Scovie Awards – Hot Sauce – Louisiana Style
2nd Place 2013 Scovie Awards – Hot Sauce – Louisiana Style
2nd Place 2013 Hot Pepper Awards – Wing Sauce – Mild
2nd Place 2012 Hot Pepper Awards – Hot Sauce – Cayenne
2nd Place 2012 Fiery Food Challenge – Cook off – Wing Sauce – Mild
3rd Place 2013 Scovie Awards – Wing Sauce – Traditional-Mild/Medium
3rd Place 2012 Scovie Awards – Wing Sauce – Cook it up – with meat
3rd Place 2011 Scovie Awards – Buffalo Wing Sauce – Cook it up – with meat
3rd Place 2011 Fiery Food Challenge – Wing Sauce – Cook off – Medium
3rd Place 2011 Fiery Food Challenge – Wing Sauce – Cook off – Mild
3rd Place 2010 Scovie Awards – Hot Sauce – Mild
3rd Place 2004 National Buffalo Wing Festival – America's Greatest Wing Sauce Competition – Amateur Best Traditional Sauce